Case Erector
What is a Case Erector?
Case erector is also called case former, which can convert the case blanks into fully erected, bottom-sealed cardboard boxes or folding cartons, it is a kind of packaging equipment widely used in logistics, e-commerce, distribution industries.
The carton erector picks up a case blank from the blank magazine, and uses mechanical and pneumatic devices to complete a series of actions such as case forming, flap folding, and case bottom sealing, and finally outputs a cardboard box or folding carton with an open top and other sides sealed.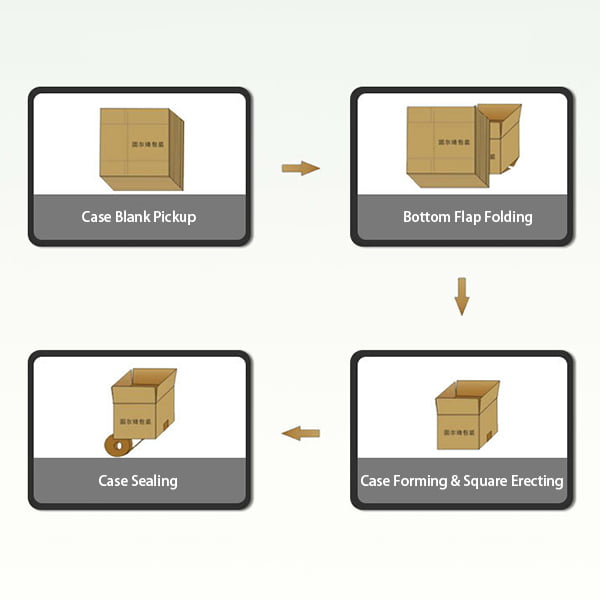 After cardboard boxes and folding cartons come out, they are ready for product loading by packaging machines or hands.
Types of Case Erector
Carton erecting machine has many different classifications, the common classifications are as follows.
According to case types, carton box erector can be divided into cardboard box erectors and folding carton erectors;
Based on degree of automation, carton box erector can be classified into manual, semi automatic, and automatic types in turn;
On the basis of erecting orientation, vertical carton erector and horizontal carton erector are the two different types.
Cardboard Box Erectors
Cardboard box erectors, as the name suggests, they are the machines that erect cardboard boxes, after erect the cardboard boxes, fold the bottom flaps and seal the bottoms with tape or glue.
Cardboard boxes are mainly industrial corrugated boxes, they are made of corrugated cardboard through die-cutting, creasing or gluing, etc.
Cardboard box erectors are capable of erecting or forming multiple types of corrugated boxes and folding cartons, mainly including:
AFM (All Flaps Meet)
HSC (Half Slotted Case)
RSC (Regular Slotted Case)
The above types are more common, while RSC is the most frequently seen.
If your cases are special types, please contact us first to confirm whether we can customize a suitable carton box erector for you.
Folding Carton Erector
Folding carton erector is a common packaging machine.
After picking up the folding carton blank from the blank magazine, it will seperate and shape the carton blank, fold the bottom flaps, and then seal the bottom with tape or glue, and finally get the folding carton with the top open, which is convenient for downstream packaging machine or hand to load the product.
Unlike the cardboard box, the folding carton is made of paperboard and is mainly used for the packaging of daily necessities, while the cardboard box is made of corrugated paper and is mainly used for the packaging of industrial products.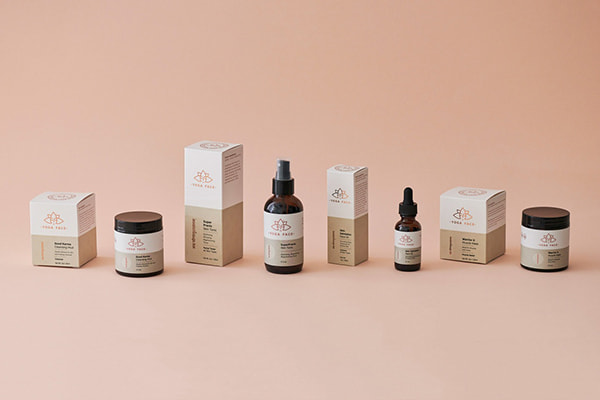 There are also different types of folding carton erectors for you to choose from, generally divided into horizontal folding carton erector and vertical folding carton erector.
In fact, the vertical folding carton erector is generally customized by removing several working stations of the vertical cartoning machine.
Automatic Case Erector
For the automatic box erector, only need to place the cardboard box or folding carton blanks in the blank magazine in advance, and the rest of the steps are completed by the automatic box erector without manual intervention.
These steps include:
Case Blank Pickup
Case Shaping
Case Squarely Erected
Case Transmission
Case Sealing
Semi Automatic Case Erector
Watch the following semi automatic carton erector's demo video, you will find that this machine needs to manually pickup the box blank from the blank magazine, open the box blank and shape it to fully erected status.
And then, place it on the case pocket for bottom flaps folding, push it to the bottom sealing station, after the photoelectric eye detects the carton, it automatically completes the sealing.
Case Erector Manufacturers
Use the Keywords Tool in Google Ads to search for carton box erectors, and there will be a lot of branded keywords.
These brand suppliers have formed their own reputation in this niche and are well known by customers all over the world.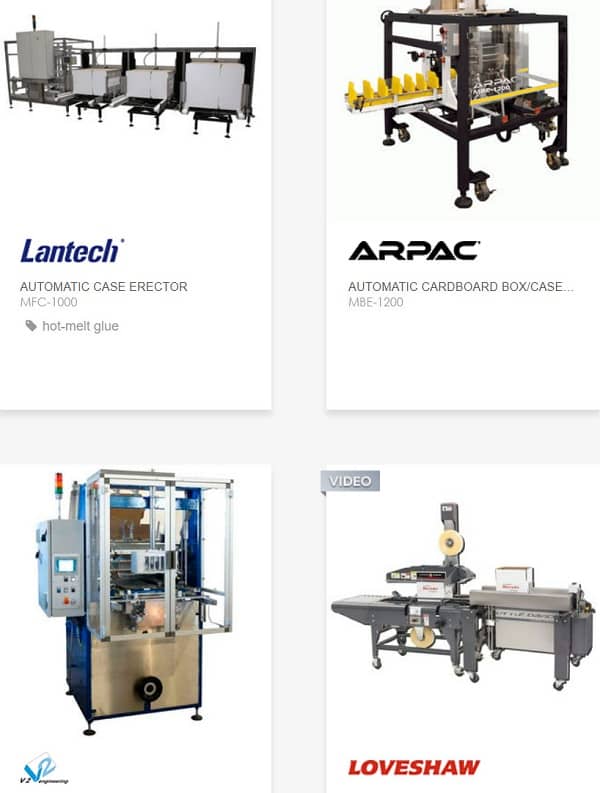 By browsing the product and blog pages of these brand manufacturers' websites, you will learn more about the carton box erector's top technologies and development trends.
Famous carton box erector manufacturers mainly include:
A-B-C Packaging Machine Corporation
Combi
Endoline
Lantech
Little David/Loveshaw
Marq
Pearson
Wexxar
Case Erector Cost
The packaging box erector's price is actually related to its type, degree of automation, and speed.
In the Chinese market, the price of low-end cardboard box erectors is generally around US$6,000, while the price of some folding carton erectors has reached US$18,000.
Therefore, only by clarifying all your needs for a carton box erector, can we determine a reasonable price for you.
Factors to Consider in Carton Erector Sourcing
If you are still struggling with how to choose the right packaging box erector, the following content may help you to escape the struggle.
To buy the carton erecting machine that best meets your requirements, you must first clarify the following questions.
Most carton erecting machines on the market are mainly designed for processing regular slotted cases (RSC). If your cartons are regular slotted cases, there are many suitable carton erecting machine manufacturers for your choice.
If your cases are overlap slotted cases or half slotted cases, the range of optional carton erecting machine supplier will be greatly reduced.
Secondly, you need to know the size of your case. The length, width and height of your case must be within the range supported by the packaging box erector, so as to ensure that the packaging box erector you bought can effectively handle your cases.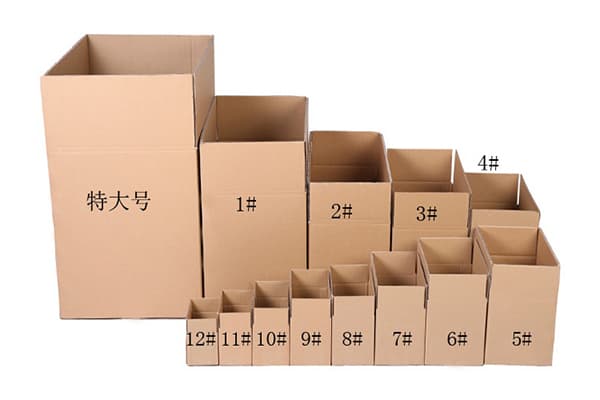 According to our accumulated machine operation experience, the quality of case corrugating will directly affect the use effect of packaging box erector machine.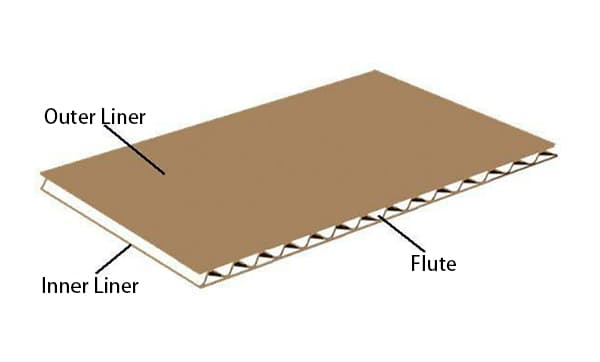 Some customers also found this problem and gave us feedback, after replacing poor corrugating cases with better ones, the problem was resolved.
In view of this, we suggest you communicate with your corrugated box suppliers, clearly put forward the requirements of corrugating quality to them, and it is necessary to carry out inspection before large-scale production.
Generally speaking, the erecting speed of a standard vertical carton box erector is about 7-10 cases per minute, and the erecting speed of a high-speed vertical carton box erector is 15-20 cases per minute. The difference between the two is not too big.
If you have higher requirements for speed, you can consider purchasing a horizontal carton box erector, the speed may reach 30-40 cases per minute.
Tape seals and glue seals have their own advantages and disadvantages.
Pros and Cons of Tape Sealing
Lower price;
Less power consumption;
Easier maintenance;
Tape quality affects sealing quality;
Tape sealing can't keep up with high-speed case forming;
A roll of tape runs out faster than a tank of glue, more frequent tape replacement.
Pros and Cons of Glue Sealing
Higher efficiency;
Glue replacement frequency is lower than tape replacement;
Glue may block the hoses and nozzles;
Over-spraying may occur during the glue spraying process, more clean up effort.
You can decide which type of bottom sealing to use based on above comparisons.
As mentioned before, case formers can be divided into 3 types according to the degree of automation, manual, semi automatic, and automatic.
Manual case formers are rare in the market now, semi automatic and automatic case formers are common. The choice of semi automatic or automatic case former depends on your requirements for forming speed, local labor costs, and budget.
If your budget is sufficient, in favor of fast case forming speed, and your local labor cost is high, it's better to choose a fully automatic case former without any hesitation;
If your budget is limited, no special requirement for case forming speed, and your local labor cost is within an acceptable range, then you can choose a semi automatic case former.
If you plan to purchase packaging box erector recently, welcome you to send us an inquiry on this website, we will reply to you within 1h.
SiroSilo could also supply the following products, if you are also interested in any type, please feel free to send us an inquiry: