Cartoning Machine
What is Cartoning Packaging Machine?
Compared with plastic packaging bags, the carton is an eco-friendly packaging carrier, it can be easily degraded. Because of this, the demand for cartoning packaging machines continues to grow, and Google searches related to cartoning packaging machines have also been high.
A cartoner machine is actually a packaging machine. After the carton blank is erected or horizontally formed, the product is manually or automatically loaded or filled, and then the carton is closed by tuck-in flap or hotmelt adhesive.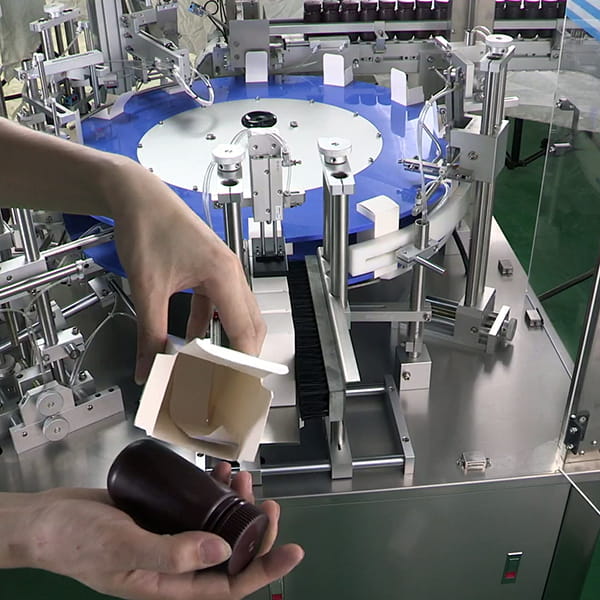 The cartoning machine can mechanically load many kinds of products into cartons, saving labor and improving packaging efficiency.
There are many different classifications for cartoning machines.
According to Product Loading
It can be divided into end load horizontal cartoner and top load vertical cartoner.
Top Load Vertical Cartoner
The carton blank is erected on the star wheel, the carton's front panel and back panel are perpendicular to the ground, and the top closing panel and bottom closing panel are parallel to the ground, the items are loaded into the carton manually or automatically from the top of the carton box.
Vertical cartoners are often used to package products sold by weight or volume.
End Load Horizontal Cartoner
Horizontally form and erect the carton blank on the machine, the carton's front panel and back panel are parallel to the ground, and the top closing panel and bottom closing panel are perpendicular to the ground.
The products are loaded from one end of the carton, usually pushed in by a pushrod. The horizontal cartoner's packaging speed is faster, and it can pack wider ranges of products.
According to Carton Closure
The cartoner machine can be divided into following types based on carton closure.
As you can see in the following photo, the top and bottom tuck flaps are on the same side.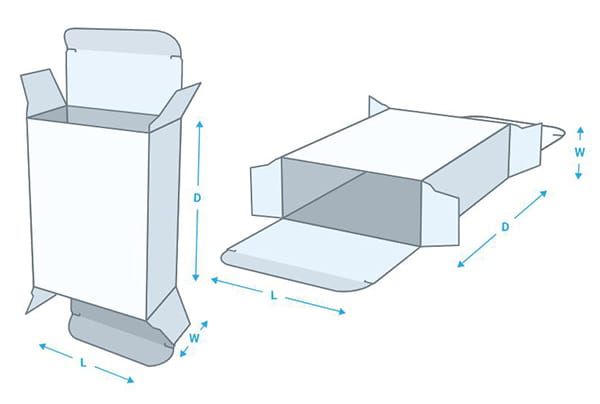 It's similar to straight tuck, only the top and bottom tuck flaps are on the different sides.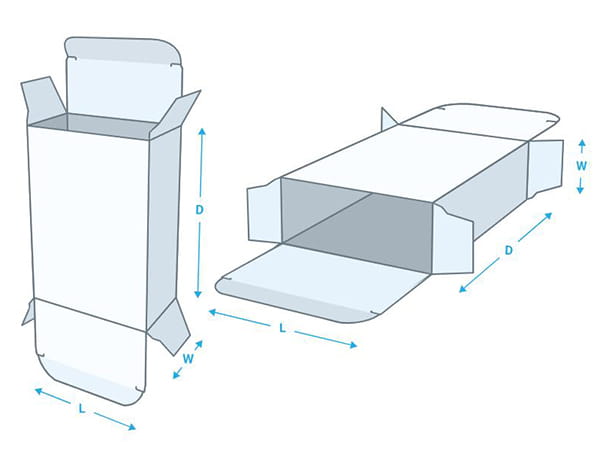 It is also referred to as bottom lock or 1 2 3 bottom folding carton, one side bottom lock panel inserts into the other side.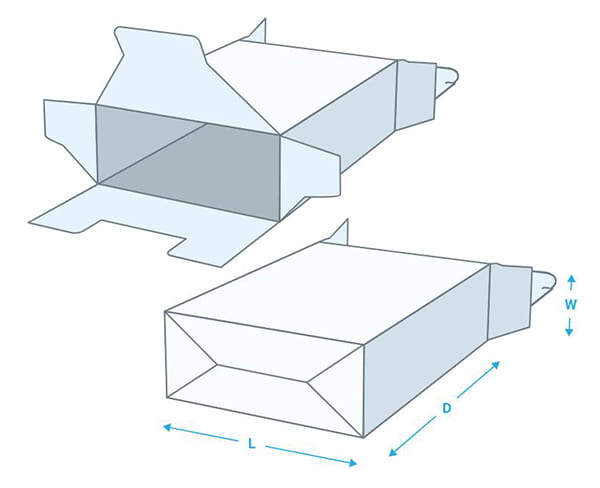 Crash bottom folding cartons are also called auto-bottom or auto-lock bottom folding cartons. It is top tuck, while the bottom is self-locking.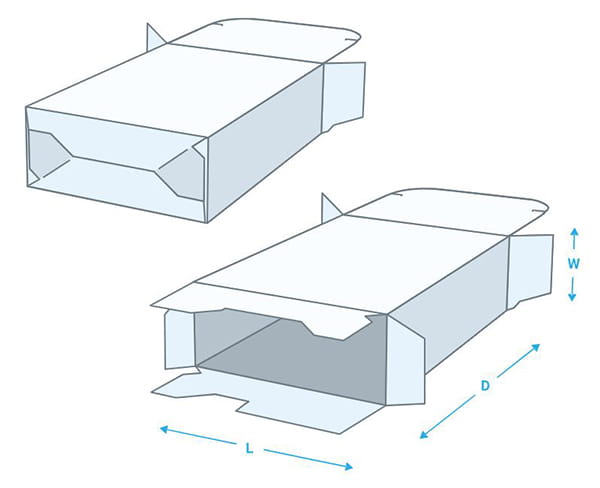 Nowadays, in pharma, medicine, and blister cartoning, the hotmelt closure partly replaces the traditional tuck-in closure, and the hot melt glue system is essential for hotmelt closure.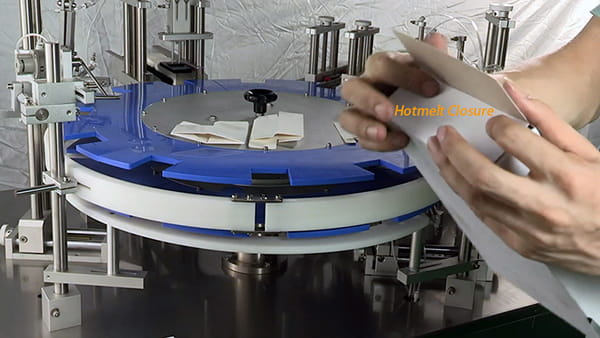 You can tell us what kind of carton closure you need, we can customize our cartoner machine as your request.
According to Cartoning Speed
Cartoning speed is also used as a basis for cartoner machine classification.
Low Speed: 40-80 boxes/min
The 40-80 boxes/min cartoner equipment is mainly based on the cam mechanism. Its advantages are compact structure, small footprint, strong adaptability, convenience, and low cost.
The disadvantage is that the carton size changeover is not easy, and the speed is low.
Medium Speed: 80-180 boxes/min
The 80-180 box/min cartoning equipment mainly adopts mechanical & cam mechanism. Its advantages are relatively stable operation, convenient carton size changeover, and wide application.
The disadvantage is that the rotary carton feeder cannot adapt to speed changes very well.
High Speed: 180-400 boxes/min
The 180-400 boxes/min cartoner equipment mainly introduces a continuous motion mechanism, its advantage is high speed.
But it is highly focus on certain products' packaging and has strict requirements on packaging materials.
Ultra-high Speed: ≥400 boxes/min
Mainly based on advanced mechanical and servo control technology.
Generally speaking, the cartoner of 60-120 boxes/min is an intermittent motion machine, and the cartoner of 120 boxes/min or more is a continuous motion machine.
For cartoning equipment that requires leaflet insertion, the cartoning speed is limited by the leaflet folding machine.

At present, the fastest German GUK leaflet folding machine in the world, its speed is stable at 500 sheets/min. Because of this, the current cartooning machine with leaflet insertion function can just realize 500 boxes/min.
Cartooning machines have been applied to many industries, including:
Blisters, oral liquids, vials, bagged granules, plasters, ointments, aerosols, etc.;
Wafers, egg rolls, coffee bags, seasoning packages, etc.;
Toothpaste, soap, cosmetics, facial mask, lipstick, mosquito coil, etc.;
Hardware and Electrical Appliances
Bearings, bulbs, switches, relays, etc.;
Piston rings, spark plugs, filters, automobile light bulbs, etc.;
Stationery and Entertainment
Correction fluid, playing cards, puzzles, pens, staplers, staples, ink pads, glue, toys, etc.;
SiroSilo Industrial can provide both vertical cartoning machines and horizontal cartoning machines, they all have the following common pros:
Support many kinds of cartons such as tuck-in closure, hotmelt closure, lock bottom, crash bottom types, etc.;
Step-by-step movement, vacuum suction cup erecting carton, fast speed and high stability;
PLC control, graphic touch screen HMI, custom your mother language, easy operation and high automation degree;
High-quality photoelectric sensors, solenoid valves, air cylinders, and mechanical parts to ensure the machine quality;
Inching button is convenient for machine setup;
Emergency stop button & optional safety cover to protect the operator;
Optional code printer, leaflet inserter, hotmelt adhesive system.
As a source cartoning machine manufacturer, SiroSilo has independent research and development capabilities and has our own production plant. We can customize the ideal cartoning equipment or design a suitable cartoning and packaging line for you according to your actual needs.
You are welcome to send us your inquiry on this website, we will try our best to reply to you within 1 hour.
Cartoning Process
The cartoning process of vertical cartoner and horizontal cartoner is slightly different. Now we will introduce their cartoning processes respectively.
Vertical Cartoning Machine
The vertical cartoner's cartoning process includes 9 steps:
Erect the carton blank to the starwheel
Fold the bottom dust flaps
Fold the bottom closure panel
Insert the bottom tuck flap
Top load product
Fold the top dust flaps
Fold the top closure panel
Insert the top tuck flap
Output packaged carton
The output packaged cartons are generally collected on a rotary accumulation turntable, or delivered to downstream packaging machine via belt conveyor.
Horizontal Cartoning Machine
The horizontal cartoner's cartoning process has been roughly shown in the figure below.

After the carton blanks are horizontally formed and erected by the carton feeder, they enter the conveyor belt, and the products move forward on another conveyor belt at the same time.
Next, the following cartoning steps are completed on the two synchronously running conveyor belts.
End Load Product
Fold Two End Dust Flap
Fold Two End Closure Panel
Insert Two End Tuck Flap
Output Packaged Carton
This is the basic cartoning process of the horizontal cartoner.
Cartoning Line
The cartoning line is generally composed of a cartoner and some upstream equipment.
On Jun 23, 2021, a Dutch client sent an Email to us, he requested us to custom a rotating small vertical cartoner for packaging plant seeds, he'd like to pack the cartons with top filling and hot melt closing.
This Dutch client also told us, he needs to add weight dosing equipment for dropping 250-1000 grams of seeds each time.
According to this Dutch client's requirements, we should design a weighing and cartoning line for him. This cartoning line includes the following machines and equipment:
Vibration Feeder
Z-shaped Conveyor
Multihead Weigher
Working Platform
Vertical Cartoning Machine
Packaged Carton Conveyor
It is similar to the multi head packing machine shown in the below video.
If the packed box no longer needs subsequent packaging, you can add a rotary accumulation table behind the packaged carton conveyor, facilitate workers to organize the packed box;
If the packed box needs subsequent handling, then you can connect the packaged carton conveyor to the downstream labeling machine, shrink wrap machine, etc.
Cartoning Machine Manufacturers
There are many well-known cartoner machine manufacturers abroad, the picture below lists the heavyweight players in this niche.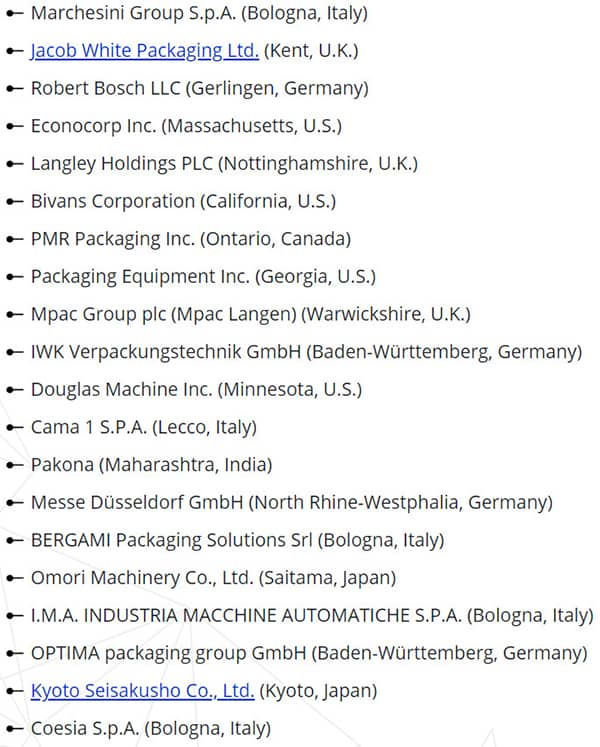 Judging from the numerous cartoner machine manufacturers in China, China is undoubtedly a major supplier of cartoning equipment.
Compared with foreign advanced cartoning equipment, especially Italian and German cartoner equipment, China's cartoning equipment has a certain gap in terms of speed, manufacturing precision, and control technology.
However, as the Chinese government advocates the transition from 'Made in China' to 'Create in China', and with the improvement of China's domestic control technology, the gap is gradually shortening, and the Chinese cartoner's quality has been able to meet some mid-to-high-end customers' needs.
Cartoning Machine Price
Speaking of the cartoner machine price, it is mainly related to its type, cartoning speed, additional functions, and the brand.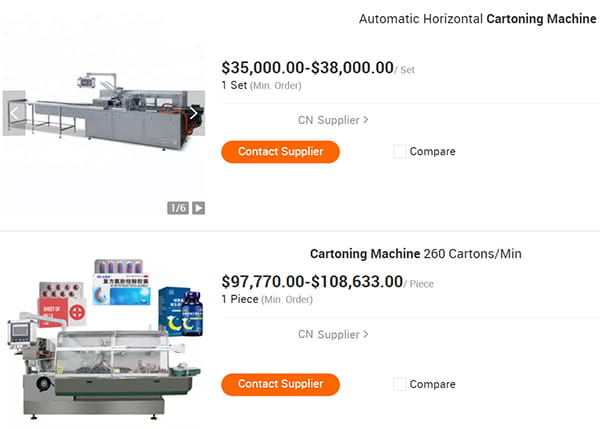 Generally speaking, the price of horizontal cartoning machine is higher than that of vertical cartoning machine;
The continuous motion cartoner machine is faster than the intermittent motion cartoner machine, so the former one's price is higher than the latter one;
If you want to add additional functions such as code printing, leaflet inserting, labeling, hotmelt closure, etc. to the cartoning machine, the price will also increase;
European and American cartoner machines have a long history of development and excellent quality, so their prices are much higher than those of Asian brands such as China and India.
SiroSilo could also supply the following products, if you are also interested in any type, please feel free to send us an inquiry: