Tuck End Box Erector
When you have a tuck end box erector, it could help you fold & form 40-60 tuck end cartons in 1 minute.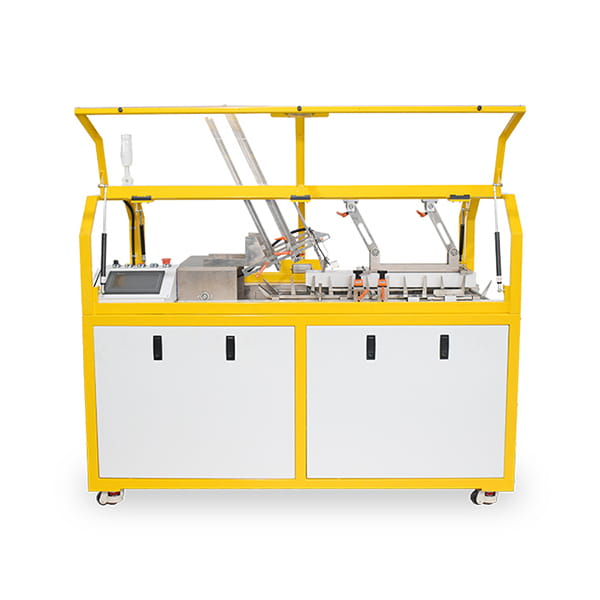 This small box erector could replace 3-6 labor, save your labor costs, and speed up your packaging.
In addition, it is capable of erecting both straight tuck boxes and reverse tuck boxes.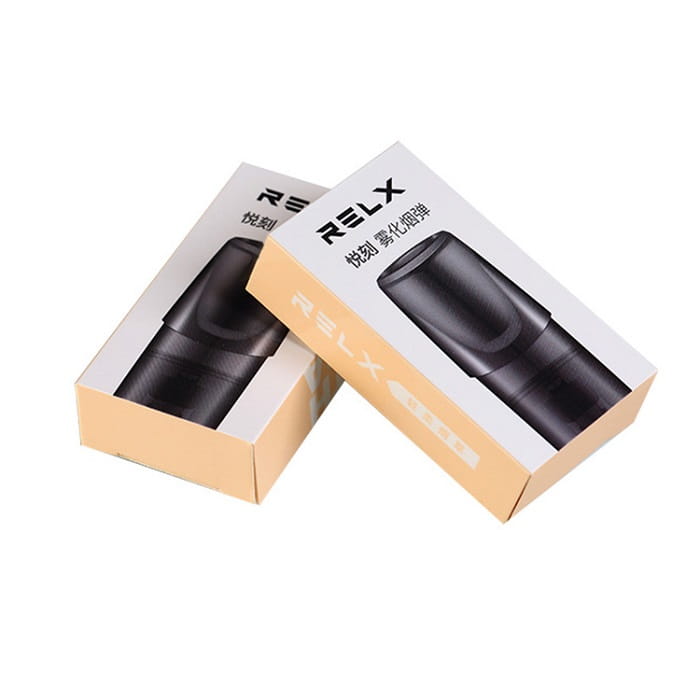 If you are planning to purchase a tuck end carton box erector, you are welcome to contact us via Email or WhatsApp.
Email: info@sirosilo.com
WhatsApp: +8617312124727
Even if you do not purchase it from us, the communication between us assists you in learning more about this type of little carton erector, and you will never feel like wasting your time and energy.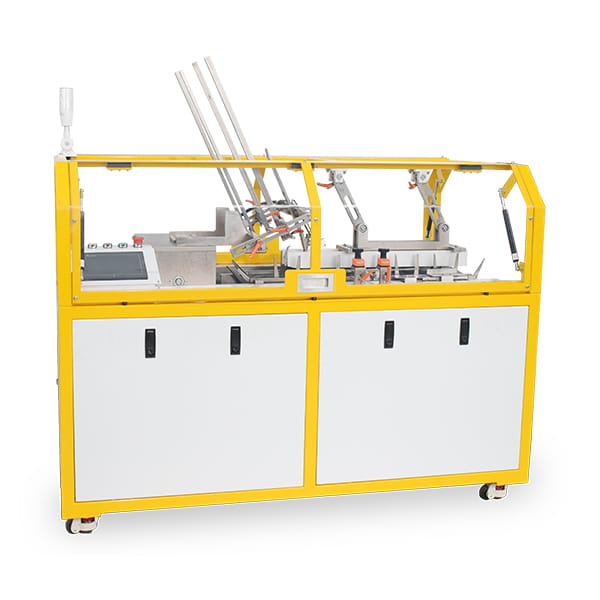 What is a Tuck End Box?
A tuck end box is a type of folding carton, such a carton box is the most popular packaging box for light items.
Refer to the diagram below: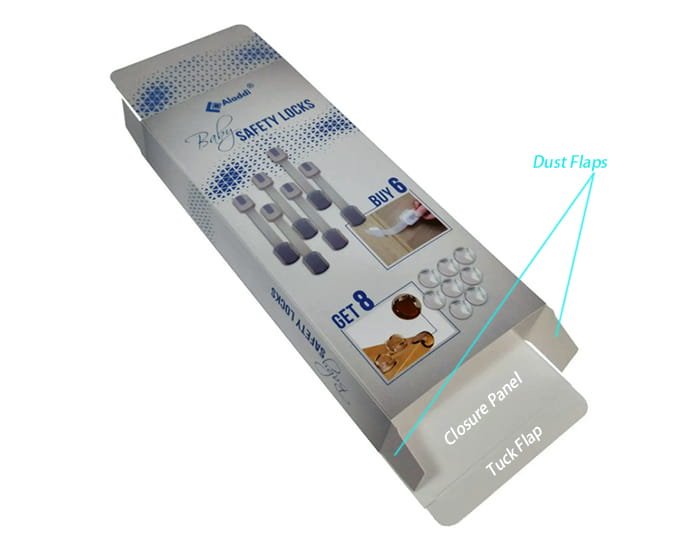 It has upper and lower (top and bottom) openings, both upper and lower openings are sealable by two dust flaps, a closure panel, and a tuck flap.
Formed tuck end boxes range in size from 1.91cm (0.75″) x 1.9cm (0.75″) x 4.45cm (1.75″) to 30.48cm (12″) x 15.24cm (6″) x 30.48cm (12″).
Types of Tuck End Boxes
The two most common tuck top boxes are:
Referring to the following die-cut drawing, you will find: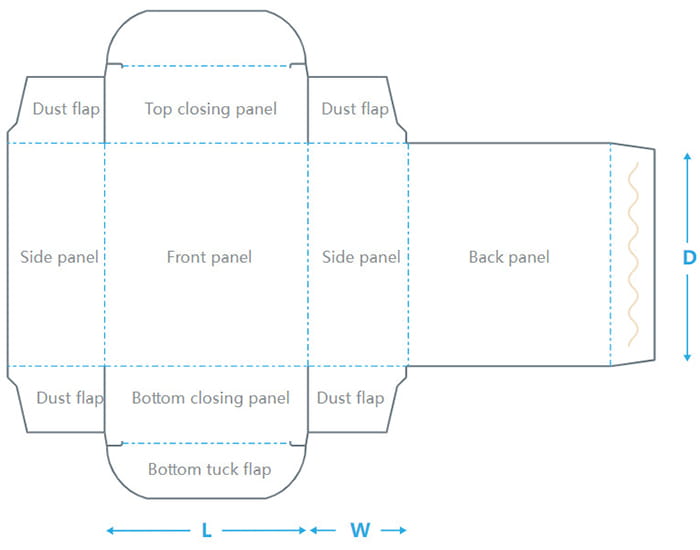 The top & bottom tuck flaps both connect to the front panel;
After the carton folding & forming, the top & bottom tuck flaps are on the same side.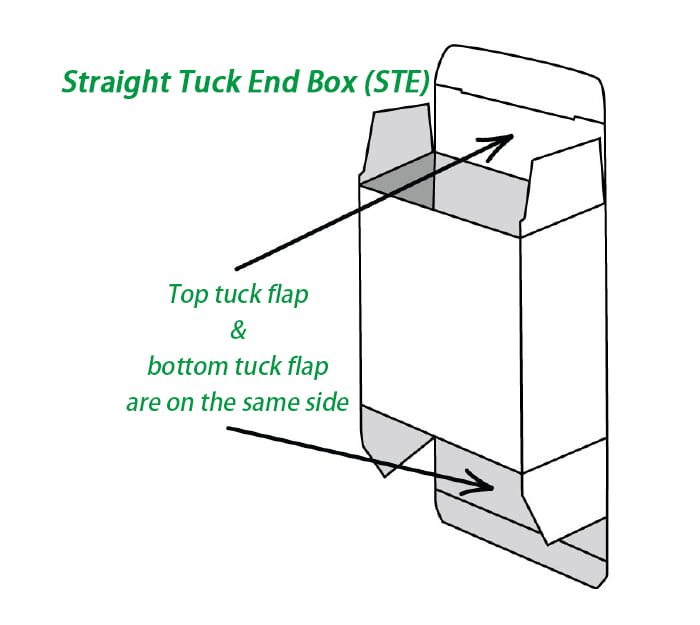 Different from the straight tuck top box, after erecting the reverse tuck end box, its top & bottom tuck flaps are on different sides respectively.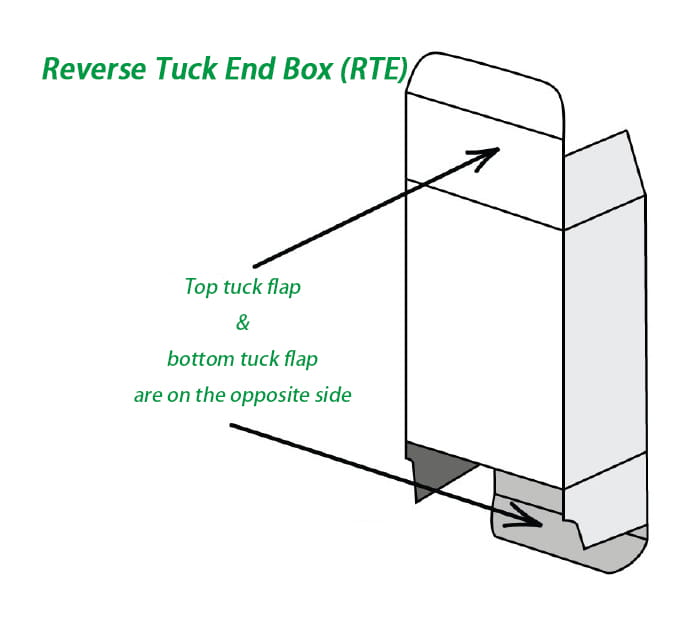 As shown in the die-cut drawing below, its top & bottom tuck flaps connect to different panels.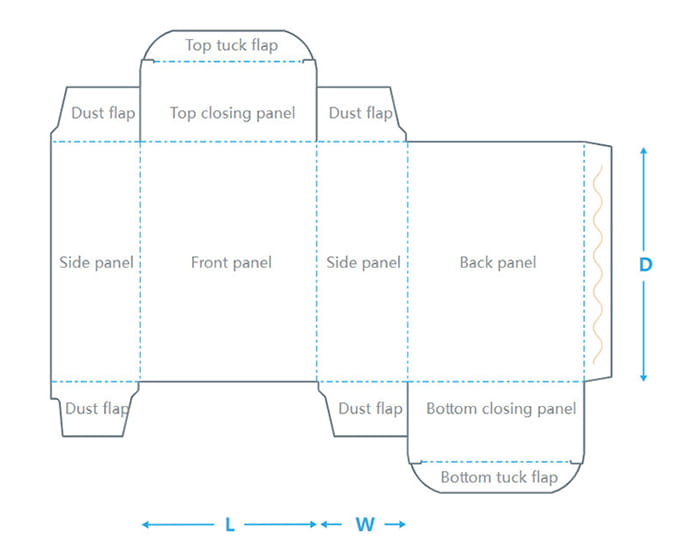 Continuous Motion Tuck End Box Erector
Tuck end carton erecting machines convert the box blanks into fully erected and bottom-sealed tuck top boxes,
This continuous motion type one can work several boxes simultaneously in one entire forming cycle.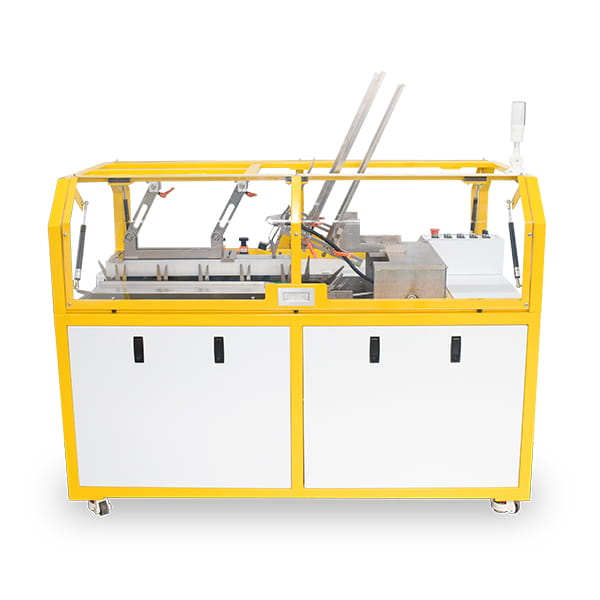 Top dust flaps, top closure panel, and tuck flap open outwards, which is convenient for subsequent manual or mechanical loading of content.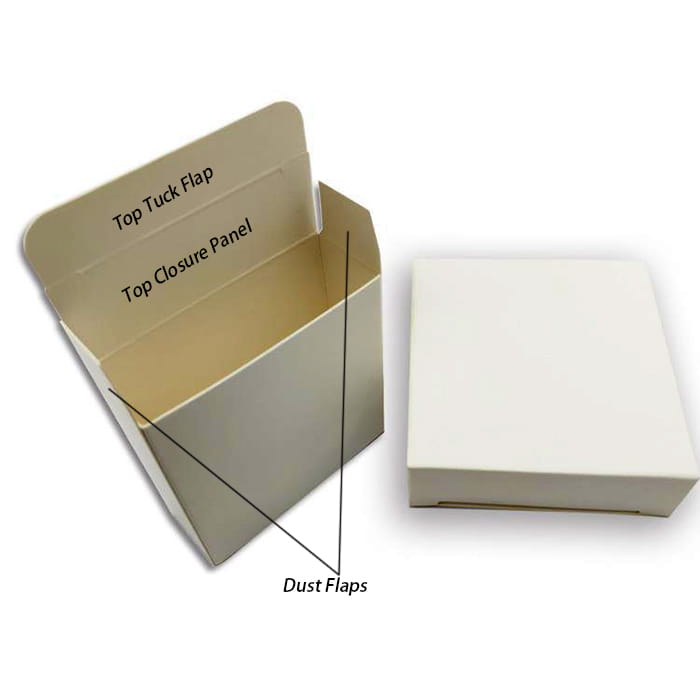 Parts
The following schematic shows the structure of the continuous motion tuck end carton former.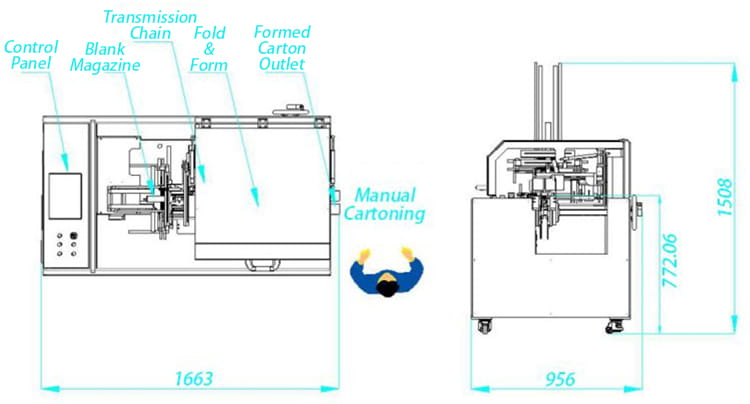 It consists of the components below:
You can set parameters, debug the machine, control machine operation, etc. on the touch screen.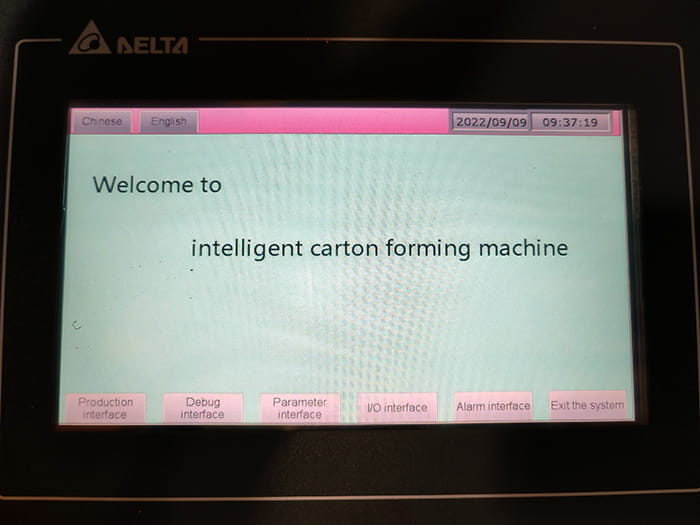 It pre-stores carton blanks, and workers can fill it with 400 box blanks in advance.
When very few remaining blanks are visible, box blank restock is achievable without stopping the machine.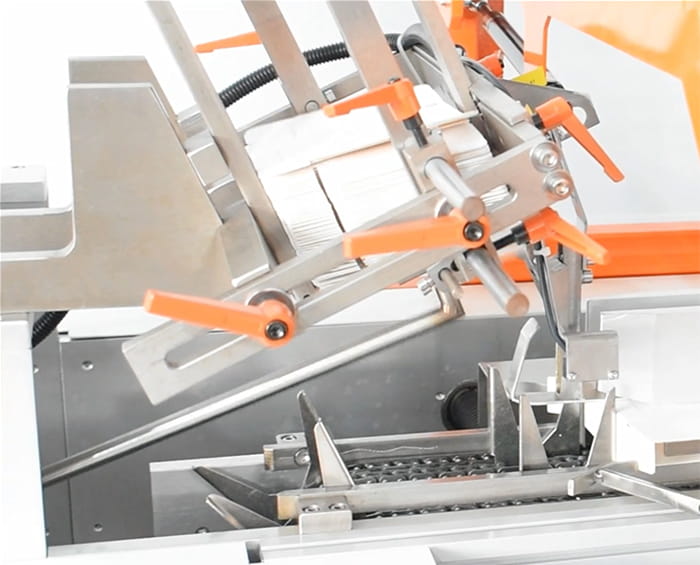 It is inside the machine, there is a row of lugs outside that connects to it.
The cartons are placed between neighborhood lugs one by one, and then the chain conveyor drives the row of lugs forward.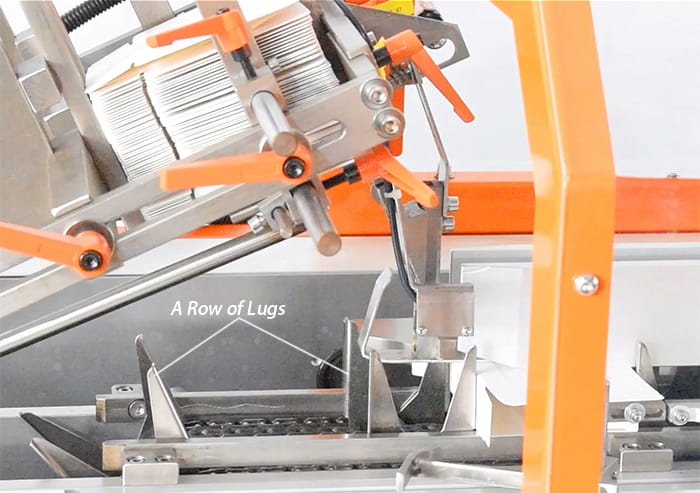 During the forward movement, the folding & forming device completes the bottom closure panel & dust flaps folding and inserts the bottom tuck flap into the carton.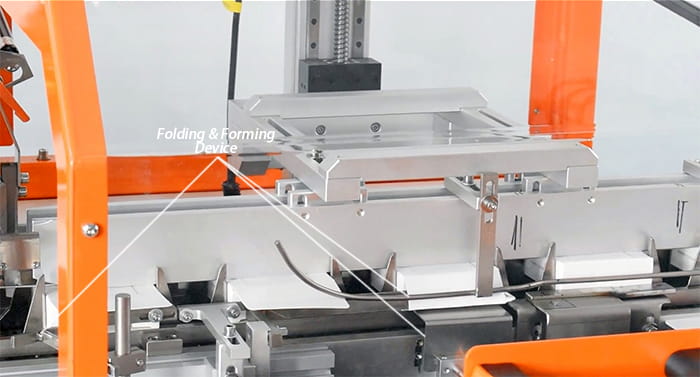 The formed carton also follows the forward movement of the transmission chain to the outlet.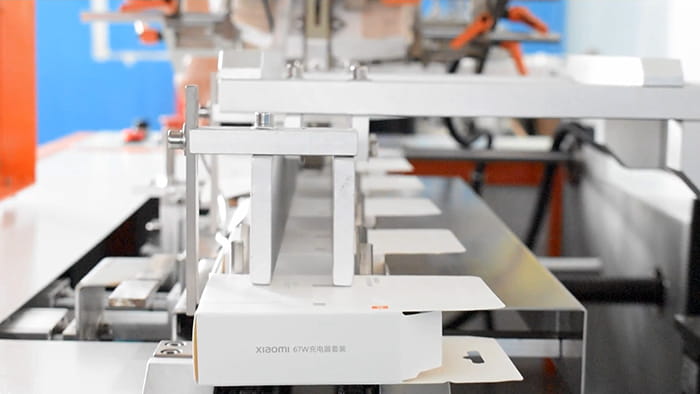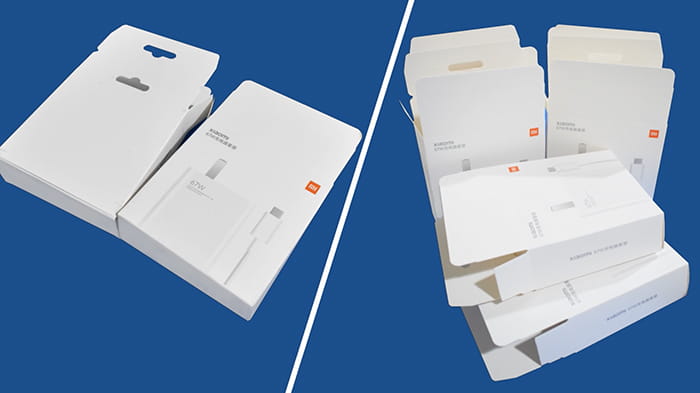 Most customers will place a collection container under the carton outlet, and the formed carton directly enters the collection container for downstream cartoning or packaging.
It is equivalent to the brain of the automatic box erector, the PLC in it issues various action commands.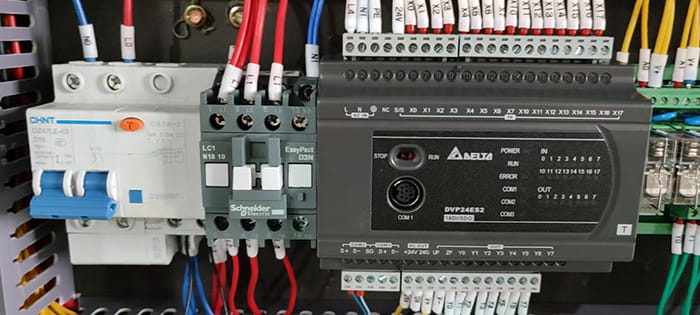 Tuck end carton erector machines depend on the electrical cabinet to run smoothly & stably.
Processes
This little carton erector operates as follows:
Pick & pre-break the box blank
Place the box between two lugs
Transmiss the erected carton
Fold the bottom dust flaps
Fold the bottom closure panel
Insert the tuck flap
Drop the formed carton
Please watch the video below to better understand its workflow.
Pros
Tuck end carton erecting machines can greatly improve packaging efficiency.
Its speed is as high as 40-60 CPM, which can replace 3-6 manual box folding workers.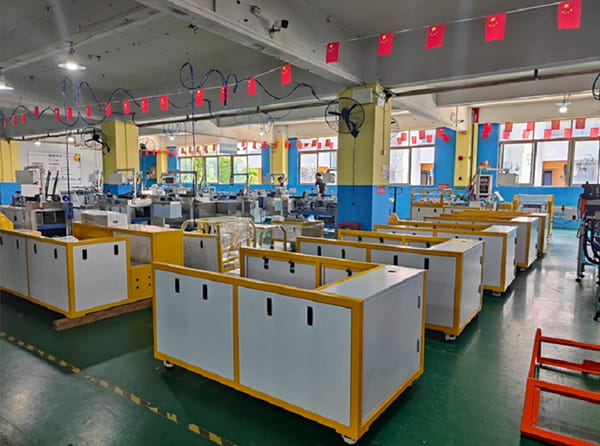 In addition, as long as you pay attention to machine maintenance, it can work for you in 3 shifts.
Of course, you have to add carton blanks to the magazine from time to time.
Intermittent Motion Tuck End Carton Former (15-25 CPM)
For customers who erect less than 10,000 boxes per day, this intermittent motion tuck end carton former is an excellent choice.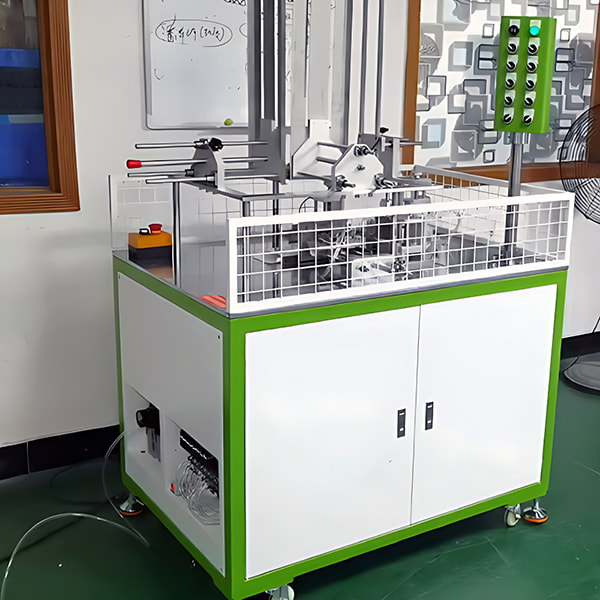 American customer Mr. Bob inquired us about a small skin care box folding machine in September 2023.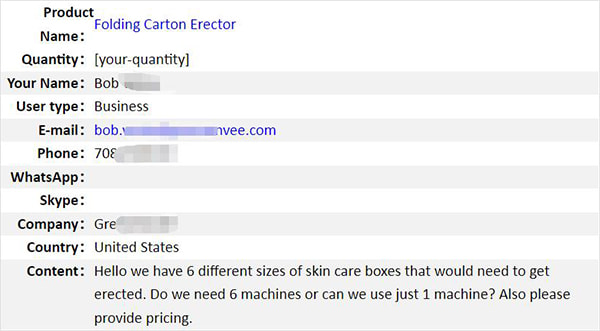 His speed requirement is 10 CPM per minute, and his daily output is 1000-2000.
We suggest he purchase this intermittent type one (20 CPM), which has good performance, costs less, consumes less power, and is easier to maintain.
When his output increases, he can then choose the continuous motion machine or buy a few more intermittent motion ones.
He readily accepted our proposal, and after 16 days of email exchanges, decided to pay the full price in advance for the purchase.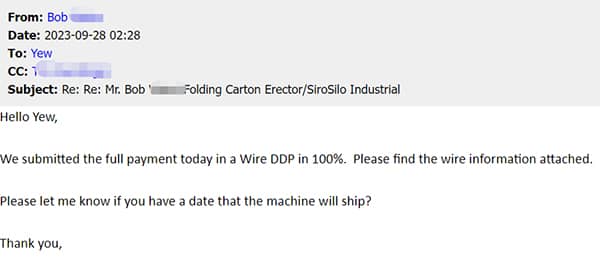 His extraordinary trust in SiroSilo will inspire us to make his machines 100% attentively.
Components
This little carton erector includes the following components:
Frame
Carton blank magazine
Vacuum suction cup
Vacuum generator
Carton forming station
Pneumatic components (air cylinder)
Electrical cabinet
Touch screen
Levelling feet
Universal wheel
……
Workflow
Its workflow is similar to the continuous motion tuck end carton former as follows:
Carton blank grabbing & shaping
Carton Framing
Dust flaps folding
Top closure panel folding
Top tuck flap folding & holding
Top tuck flap inserting
Formed carton outputting
Please watch the video below to review the above processes.
Features
Due to the following features, many customers are interested in this machine.
Compact structure, small footprint;
Simple & convenient touchscreen control;
Photoelectric eye detection ensures stable & smooth running;
Very low power, saving electricity bills;
Safety cover protects the operator;
Universal wheels make shifting easy;
Optional formed box flip function.
Tuck End Carton Erecting Machine Price
The tuck end carton erecting machine price varies due to changes in customer requirements.
Customization requirements include:
Wider carton sizes support
Well-know PLC, inverter, touch screen, motor
Additional features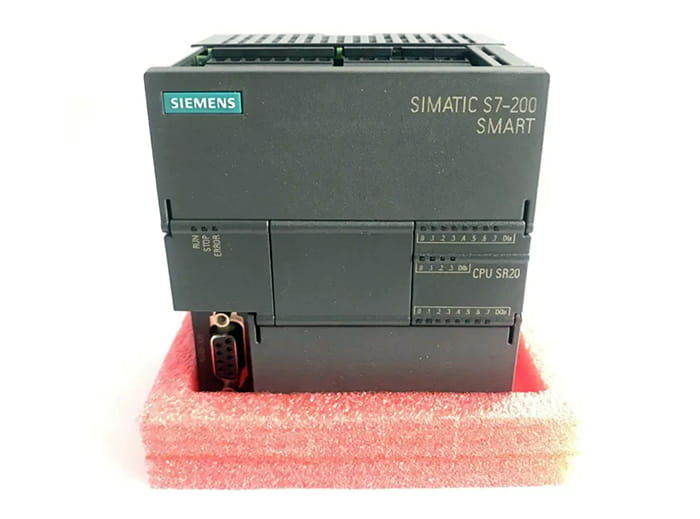 To get the latest folding carton erector quotation, please contact us.
Tuck End Box Erector Manufacturers
Do a Google search for tuck end box erectors and many pages come up about corrugated box erectors, machines for folding corrugated cardboard boxes, and web pages for small folding carton erectors rarely appear.
Fortunately, you have now found our website, we are a professional manufacturer of little carton erectors in China.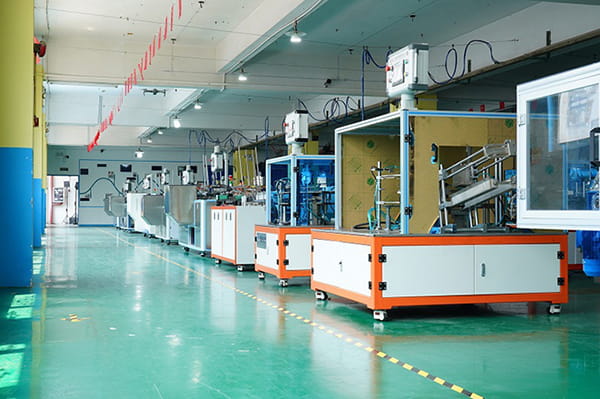 The video below shows our assembly workshop:
If you plan to purchase a folding carton erector soon, you are welcome to give us a video call, we can show you our office and factory.
WhatsApp: +8617312124727
1-2-3 Bottom Box Erector
Besides the tuck end carton former, many customers ask about 1-2-3 bottom box erectors.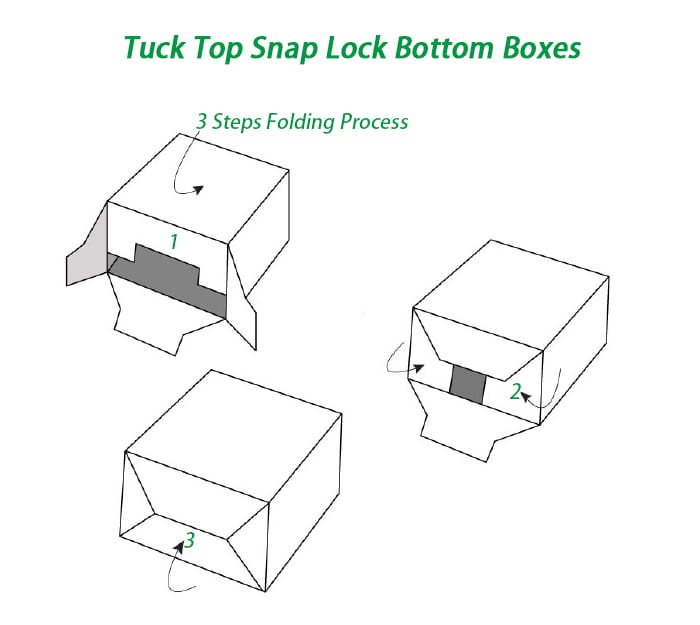 Please watch the following video to understand the workflow of such small box erectors.
Intermittent Motion
Composition
The photo below shows the structure & sizes of the 1 2 3 bottom box former.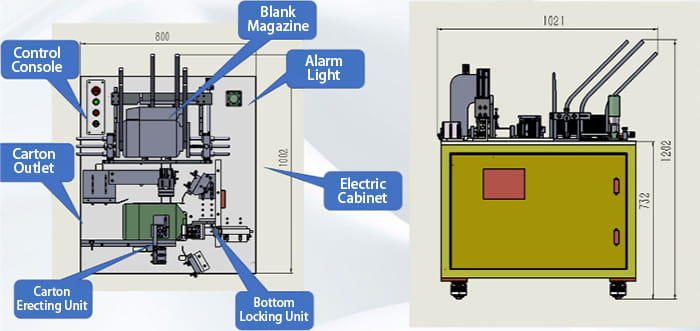 123 bottom box blanks are pre-stored in it, and the maximum pre-stored quantity is 400, depending on the thickness of the box blanks.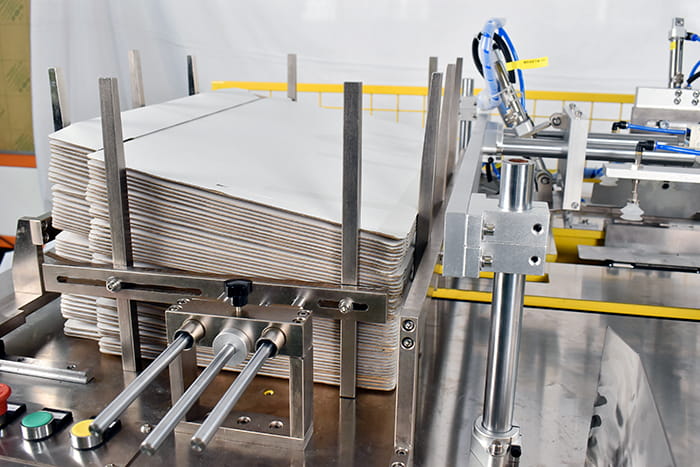 Grab the box blank and transport it to the forming station.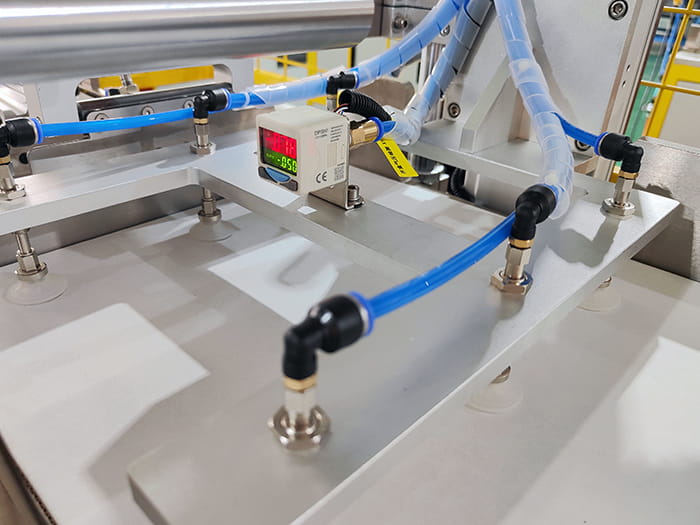 Box Forming & Framing Station
Two sets of upper and lower vacuum suction cups respectively absorb the front and back panels of the carton.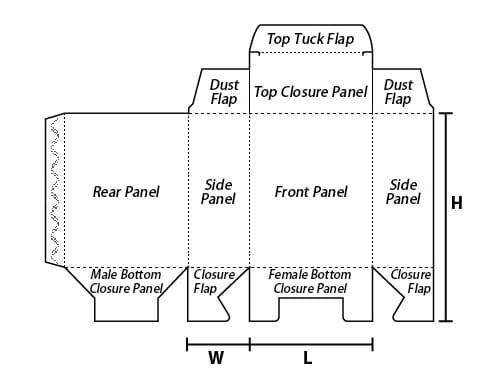 The two opposite forces stretch the carton blank and erect it into a three-dimensional rectangle;
Then, a moving baffle closes to the forming carton and, together with another fixed baffle, frames the erected carton.
Fold the female bottom closure panel and two closure flaps of the 1-2-3 bottom box.
The pneumatically controlled tucker inserts the male bottom closure panel into the female bottom closure panel, and the two panels interlock together to achieve bottom sealing.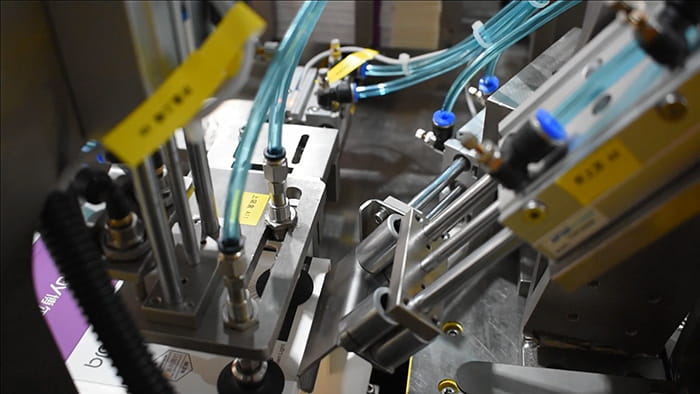 The pneumatically controlled tucker pushes the fully erected & bottom-sealed carton after inserting the bottom closure panel, and then the formed carton falls into the pre-placed collection container below.
Click this screen to set parameters and control machine operation, which is simple, convenient, and fast.
It is equivalent to the brain of this small box folding machine, integrating important components such as PLC, photoelectric eyes, and air cylinders.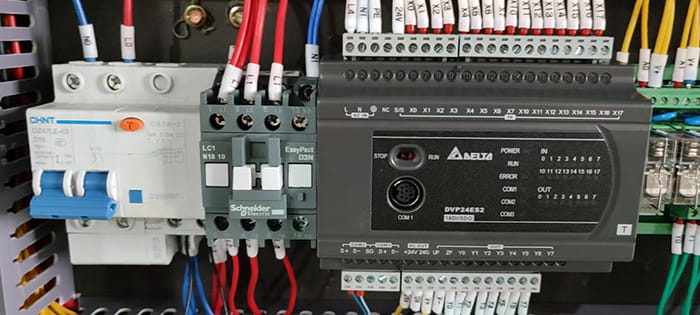 When the machine is running abnormally, the alarm indicator will light up, reminding you to check and solve the problem.
It protects the operator in the event of machine failure.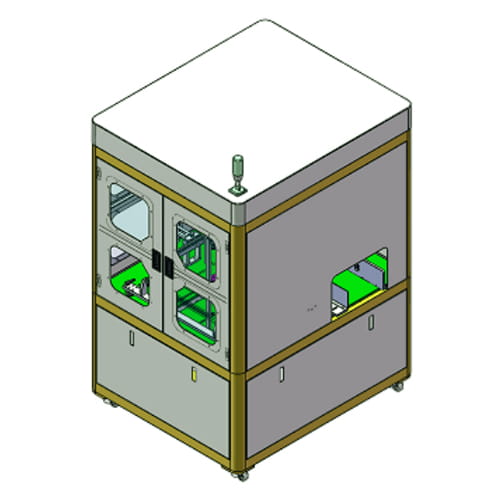 Processes
The working processes of the snap lock bottom box former are as follows:
Box Blank Picking-up & Conveying
Carton Forming & Framing
Bottom Sealing (Closure Flaps Folding, Closure Panel Folding, Closure Panel Interlocking)
Formed Box Outputting
Please click on the video below to watch the above working processes.
Pros
1 2 3 bottom small box folding machine can work an average of 15-25 boxes per minute.
Only 3-5 skilled box folding workers working at the same time can achieve this speed.
Including electricity bills and depreciation costs, it is still much more cost-effective than manual box folding.
To get a quote for comparison, please email or WhatsApp us.
Email: info@sirosilo.com
WhatsApp: +8617312124727
Continuous Motion
Continuous motion 123 bottom box folding machines are faster, with a max. speed of 25 CPM.
Referring to the video below, you will find that each formed box is followed by several other boxes that have gone through several processes.
The intermittent motion 1-2-3 bottom box folding machine can only erect one box per cycle.
Pizza Box Folding Machine
SiroSilo often encounters customers inquiring about pizza box folding machines.
For example, Ilkka, a Finnish customer sent us an inquiry on October 27, 2023.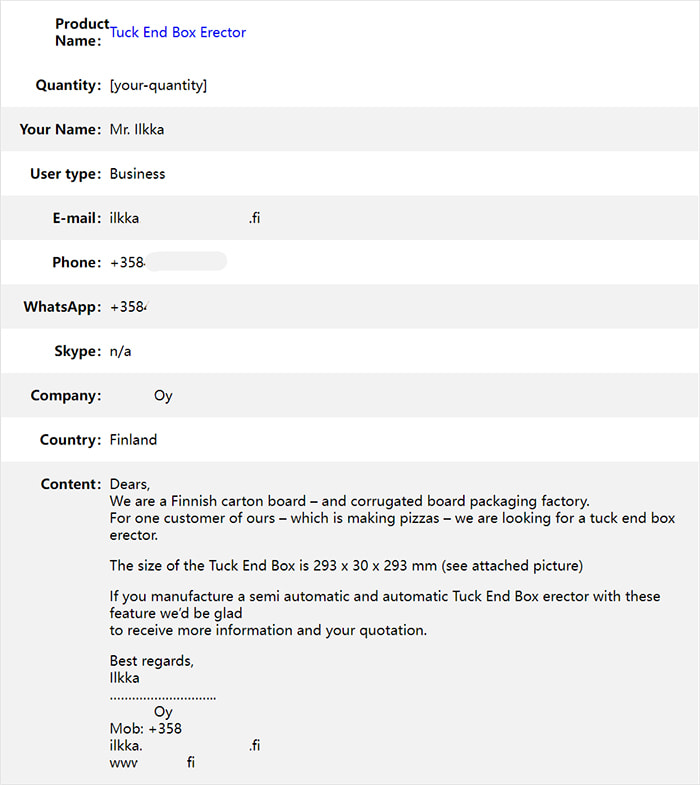 His pizza box is very special, it's actually a gusset tuck box.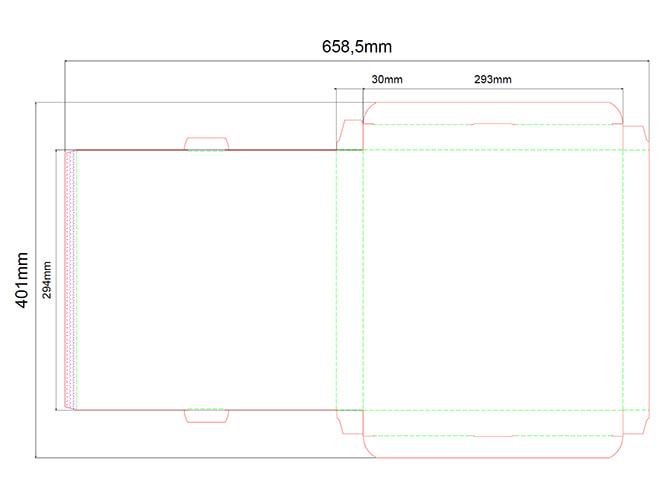 We sent him the following video and asked them to confirm whether his box was consistent with the one in the video.
In the Chinese market, almost all of the box former manufacturers you can find produce postal/mailer box folding machines or rigid box forming machines.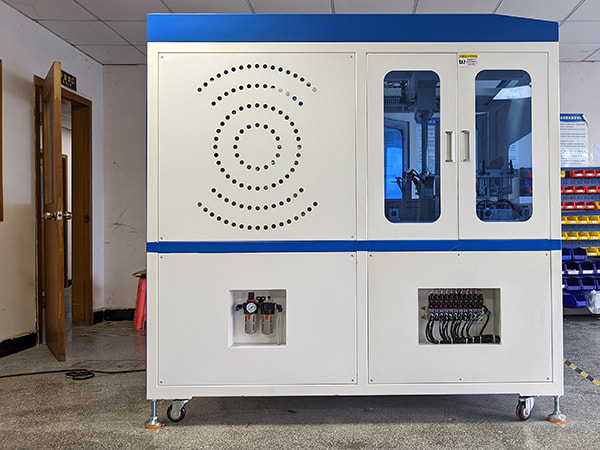 In other words, if you want to purchase a pizza box folding machine, you must discuss the customization with these manufacturers, they will assess the input-output ratio before taking orders.
Let us get back to business, we introduce to you in detail the mailer box folding machine (the mother machine for pizza box folding).
Parts
As shown in the photo below, the parts of the pizza box folding machine are clearly visible.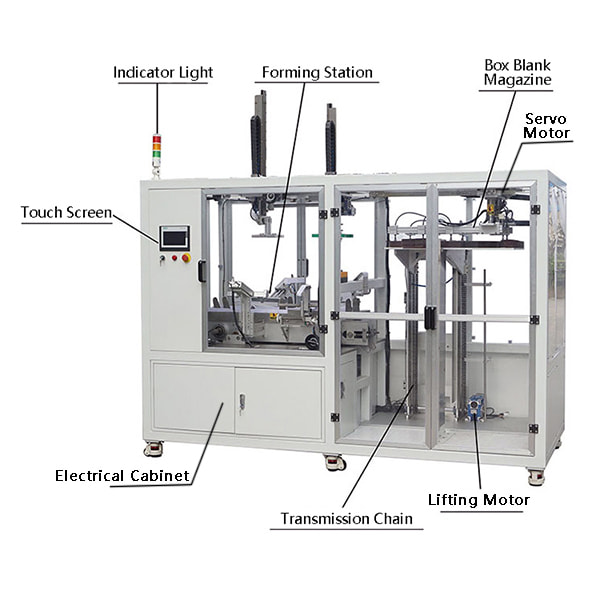 Lifting Motor
Transmission Chain
Box Blank Magazine
Forming Station
Touchscreen
Electrical Cabinet
Servo Motor
Indicator Light
Processes
It first grabs a box blank and conveys it to the forming station;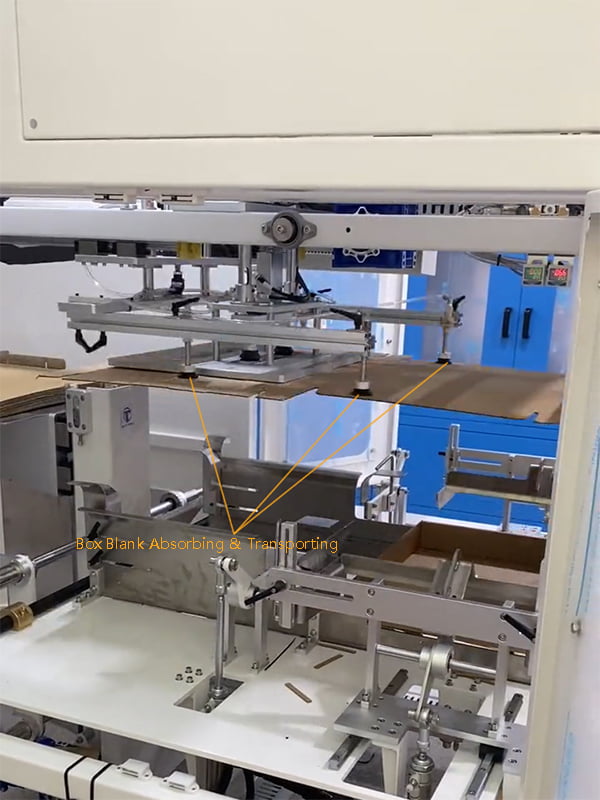 Then, it completes carton forming & framing, inserts the side panel lock tab at the forming station one by one;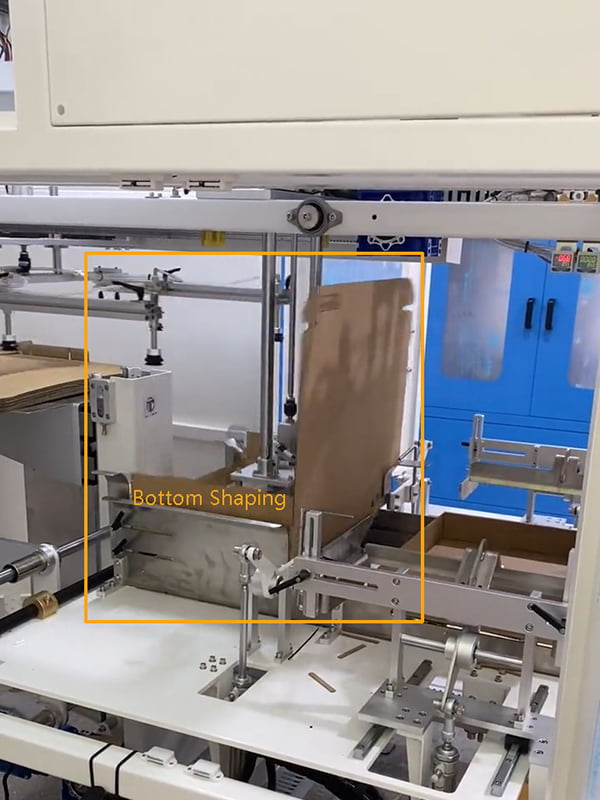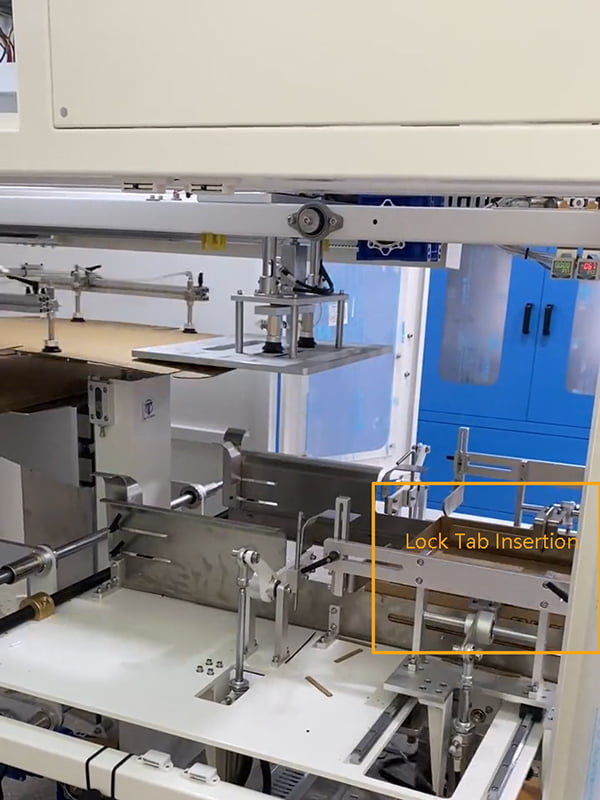 At last, it pushes the bottom-shaped & open-top box out by the following formed boxes.
Pros
This mailer box folding machine has a compact structure, a small footprint, and a touchscreen HMI for one-button control.
Its operation is simple, and you can add box blanks without stopping the machine, reducing downtime.
Large Box Case Erector
SiroSilo Industrial not only manufactures folding carton erectors, but also produces corrugated cardboard box erectors, including case erector tape, case erector glue, and box folding robots.
BOPP Adhesive Tape
Corrugated carton erectors with bopp tape bottom seals are the most common in the Chinese market, with numerous suppliers.
The pressure sensitive tape applicator sticks bopp tapes of different widths such as 72mm, 60mm, 48mm, and 45mm to the outer flaps (major flaps) of corrugated boxes, completing the bottom sealing.
Water Activated Tape
Water activated tape case erectors are extremely rare in the Chinese market.
Currently, its speed is only 2-4 CPM, which is a stumbling stone or brake that prevents many customers from making a purchase decision.
Hot Melt Glue
Hot melt adhesive sealing is becoming more and more popular because it has the following features.
As a kind of non-toxic and odorless chemical product, hot melt glue is environmentally friendly and has been widely used abroad.
As China increases its environmental protection efforts, hot melt adhesive sealing has become increasingly popular.
Daily beer cartons are sealed with hot melt adhesive.
If you introduce tape to seal, the effect will be much worse.
Tape is easy to peel off and reseal from the outside, but hot melt glue is not.
Tearing off the hot melt adhesive seal will destroy the entire carton and is unrecoverable.
Robot
The speed of the box folding robot is also slow, 4-8 CMP.
But it can erect cartons of different sizes in each run, just by pairing it with multiple box blank magazines.
This attractive feature has won the favor of many customers.