Case Erector Bag Inserter
Speaking of case erector bag inserters, they are actually two different machines that can work independently.
Many customers search for such a keyword because they want a 2-in-1 machine that combines the case erecting & bag inserting functions.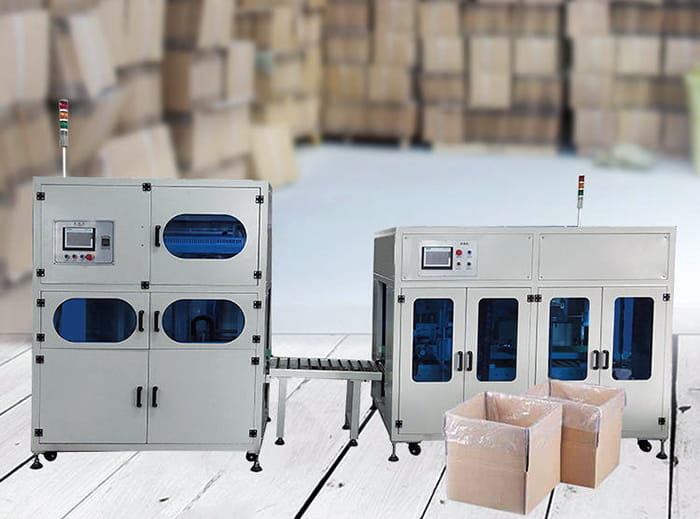 Just connect the case erector's outlet and auto bag inserter's inlet with a conveyor belt, and the two machines look like a combined one.
If you plan to purchase a box erector bag inserter in the near future, you are welcome to contact us via email or WhatsApp.
We could also customize packing lines for you according to your requirements.
Email: info@sirosilo.com
WhatsApp: +8617312124727
Case Erector
The automatic case erector is a packaging line equipment, it's capable of erecting carton blanks in large quantities and forming the carton blanks into bottom-sealed cartons.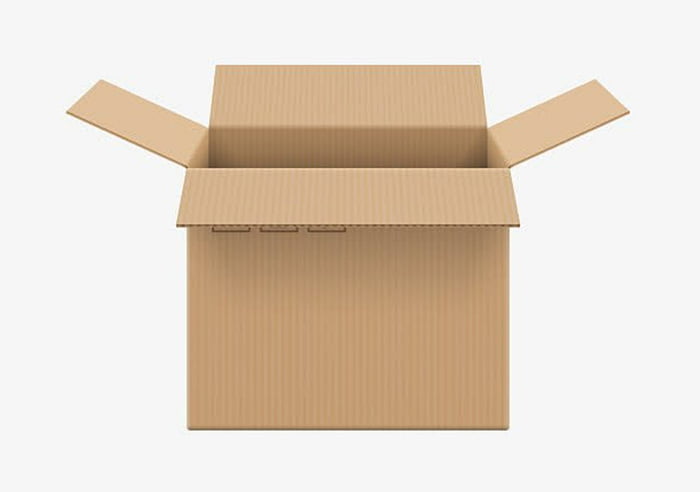 Such a machine is controlled by PLC and touch screen, which greatly facilitates the workers' operation and reduces their labor intensity, most importantly, there is less demand for employees, Which also means fewer labor expenses.
It is indispensable equipment for automatic carton box packaging lines.
The following picture displays the automatic carton box erector's structure.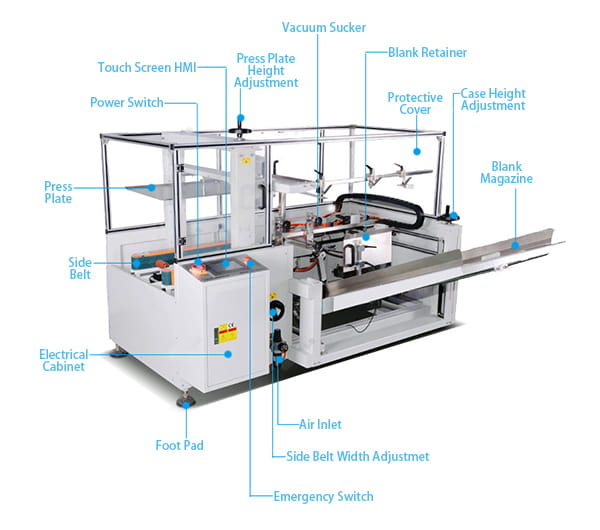 While referring to this picture, you could also click the video below to appreciate such an automatic cardboard box case erector's entire workflow more intuitively.
Automatic Bag Inserter Machine
Definition
The automatic bag inserter inserts perforated plastic bags into various corrugated boxes or plastic containers at a speed of 10 boxes per minute.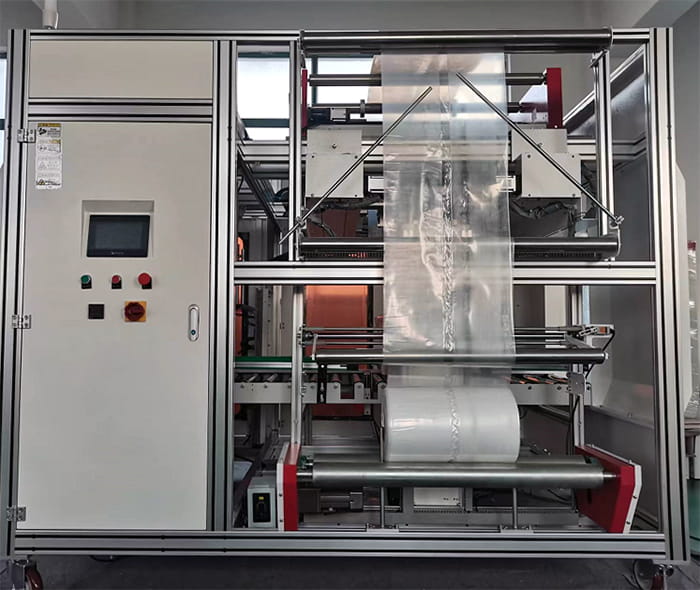 It is suitable for inner bag packaging of food, solid oil, grease, edible oil, condiments, biscuits, and other products.
You could connect it to the upstream case erecting equipment and the downstream case sealing equipment, thus realizing unmanned packaging.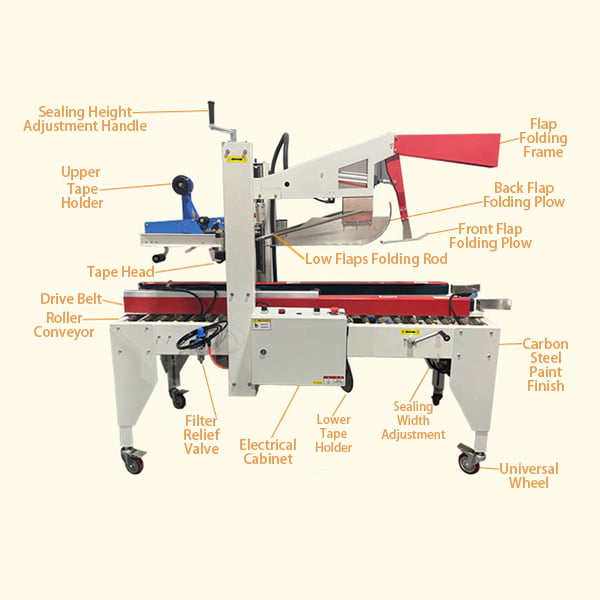 Because automated bag inserters adopt an advanced multi-servo control design, it ensures the smooth and precise placement and handling of bags.
Structure
Referring to the following two pictures, you could clearly understand the poly bag inserter's structure.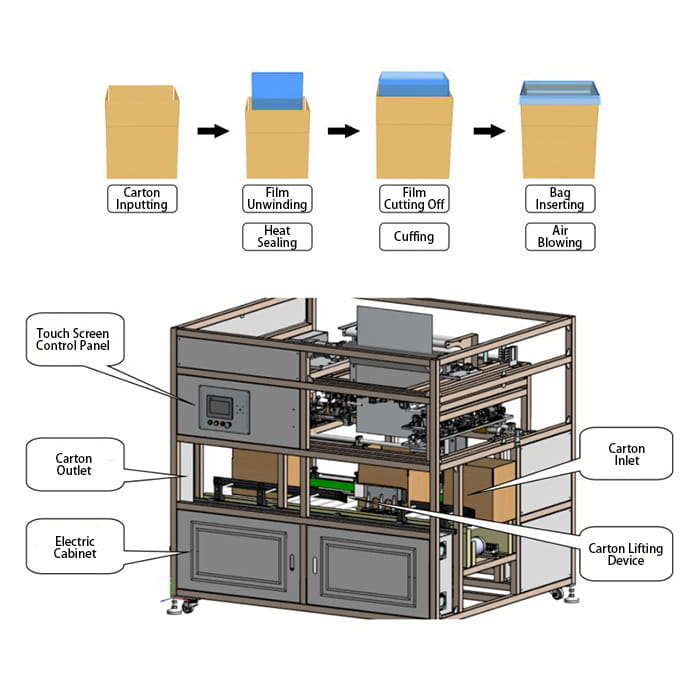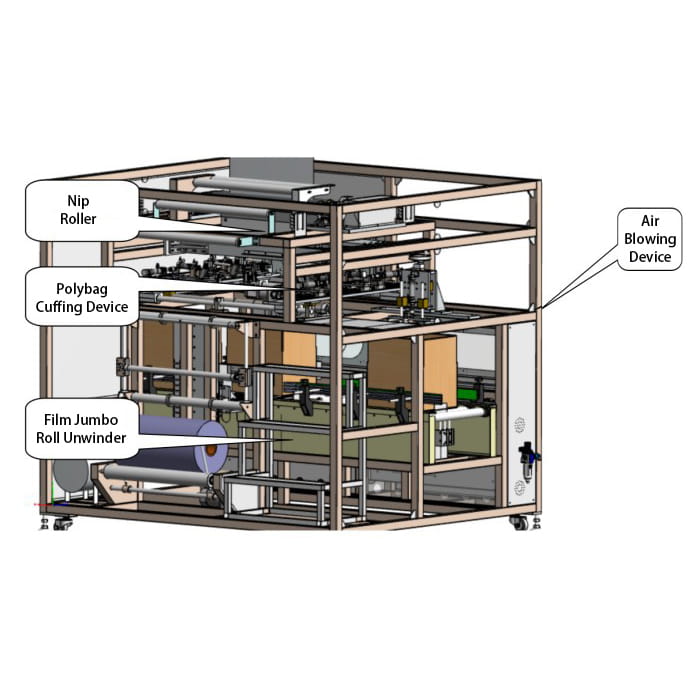 This automatic plastic bag inserter machine mainly includes the following parts:
Touch Screen Control Panel
Electric Cabinet
Carton Inlet
Carton Lifting Device
Film Jumbo Roll Unwinder
Nip Roller
Plastic Bag Cuffing Device
Air Blower
Carton Outlet
Operation
The automatic bag insertion machine adopts multi-servo control, and completes the following steps in sequence stably, quickly, and accurately:
Carton Inputting
Carton Lifting
Plastic Film Unwinding
Plastic Film Heat Sealing
Plastic Film Cutting Off
Polybag Cuffing
Polybag Inserting
Polybag Pressing & Air Blowing
Carton Outputting
Benefits
Customers all over the world highly appreciate our SiroSilo polybag inserter's following benefits.
No need for manual bag insertion, fully automatic.
Add cartons at any time without machine downtime.
Change the carton size within 10-20 minutes.
Touchscreen control ensures efficiency and productivity.
From plastic film unwinding to cuffing, effective bag control.
The anti-static bar eliminates the plastic film's static electricity.
Seal the bottom of the polybag twice to prevent it from breaking.
Customization
To customize your dreamy bag maker inserter, we suggest that you could provide the following information to us.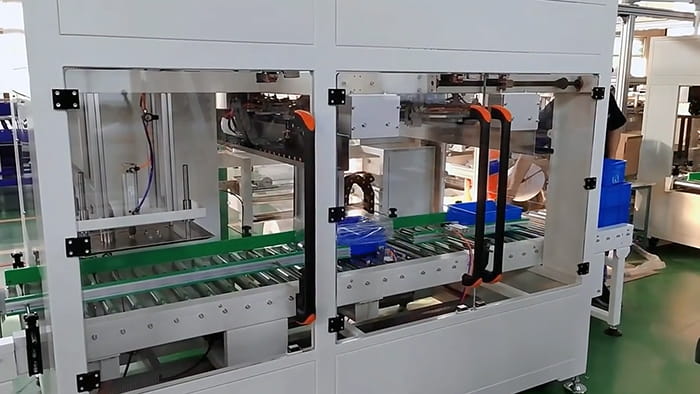 We need to know your actual max. & min. carton sizes.
If there are too many carton specifications, adding a servo motor is a good choice, then you could switch sizes with one key control on the touch screen, which is convenient and simple, and just take care of the film jumbo roll exchange.
Forms of products to be loaded
Solid
Liquid (viscous or not)
Powder
There are two types of common PE film reels:
One is the side gusset tubular film;
The other is the poly tubing film.
Our standard bag inserting machine supports film reels of the following specifications:
Material: PE
Film reel diameter (outer diameter): Φ≤300mm
Thickness: 0.03-0.10mm
If your film reel is different from the above specifications, please feel free to let us know, so we could confirm whether customization is possible for your film rolls.
As you could see in the following photo, there are 3 types of bottom sealing for your choice.

Our plastic bag inserter's standard working speed is 4-8 cases/min, 10 cases/min is reachable after customization.
It refers to the height from the carton's bottom to the ground, our standard height is 630mm, if your workers are tall, we can raise the countertop height according to your requirements.
The bag insertion machine is mostly integrated into the carton packaging line, its touch screen is opposite the film roll position.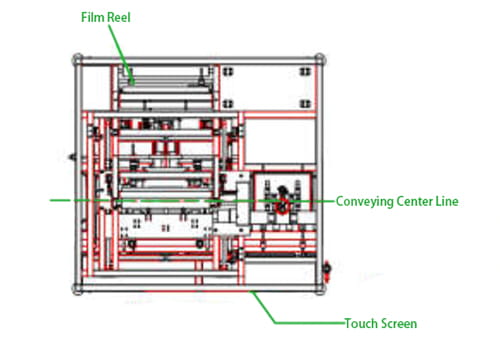 We hope you could tell us your operator's direction requirements when facing the touch screen, or provide the site layout for our reference.
Combined Case Erector and Bag Inserter
The combined case erector and bag inserter actually use a conveyor belt to link the case erector and bag inserter.
After the case erector forms the carton blank into a completely erected and bottom-sealed status, the four flaps on the top are opened outwards, followed by the conveyor belt into the bag inserter machine, and the bag inserting is then completed.
For this reason, many customers buy a bag maker inserter after purchasing a case erecting equipment, because they need to load the product into the inner bag first before carton sealing.
Inserters Packaging Lines
The bag inserters packaging lines are based on the combination of the cardboard box erectors and the poly bag inserter machines, adding a case packing equipment and a case sealing equipment, connecting them with several conveyor belts to form a whole packaging line.
This kind of packaging line is commonly used in the packaging of food, biscuits, nutritional powder, and other products.